Medical Courses After 12th Without Neet?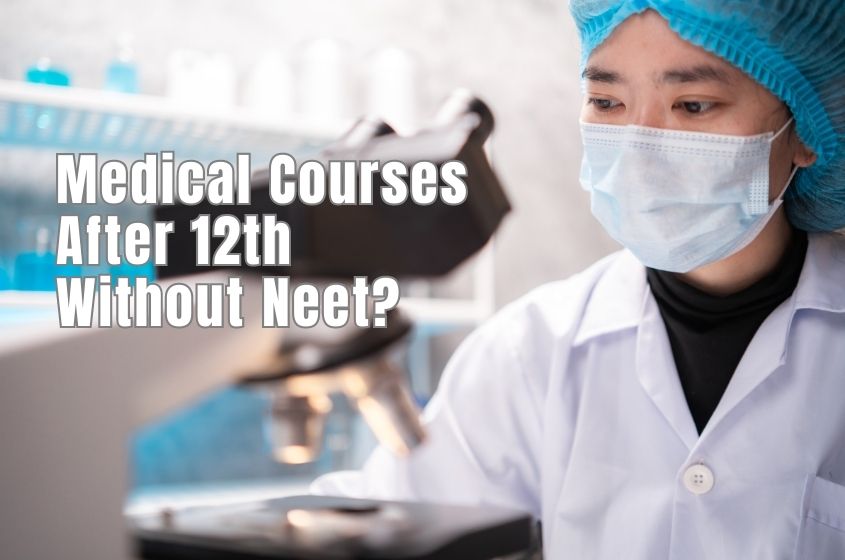 Are you looking to pursue a medical degree but are confused about the available options without having to take NEET? If you have passed 12th and are wondering, Medical Courses After 12th Without Neet? In the medical field, you can opt for it, here we provide some of the best choices. With an understanding of different pathways and requirements, this blog post is here to guide you through your decision-making process or give further direction if desired. It will discuss various options ranging from short-term/certificate courses in healthcare management and medicine & nursing-related training programs, as well as crucially identify opportunities with higher studies that do not require students to appear for the Neet exam.
Overview of medical courses without Neet
For aspiring medical students, the obstacles to achieving their goals can be daunting. However, there are medical courses available that do not require NEET (National Eligibility cum Entrance Test) as part of the admission process. These courses provide an excellent alternative for those who may not have achieved the desired NEET score or may have missed the exam altogether. Medical courses After 12th without NEET offer a range of options, including Bachelor of Science (B.Sc.) courses in various specialties such as medical laboratory technology, radiology, and optometry.
Additionally, degree courses such as Bachelor of Homeopathic Medicine and Surgery (BHMS), Bachelor of Ayurvedic Medicine and Surgery (BAMS), and Bachelor of Pharmacy (B.Pharm) are also available. Pursuing a medical career is now more accessible and attainable than ever before, and these courses are perfect for those seeking an alternative path toward medical practice. So, if you have a passion to serve society with your medical expertise, don't let anything hold you back- explore these courses today and make your dream a reality!
Top Medical Courses After 12th to Pursue Without Neet
There are numerous medical courses available for students who wish to pursue a career in the field of medicine without appearing for NEET. The importance and relevance of medicine in society cannot be overemphasized, and students who are passionate about pursuing this profession can explore various options. From courses in medical laboratory technology, physiotherapy, nursing, and optometry, to medical imaging technology and medical records management, there is no shortage of options.
Pursuing any of these courses can open the door to incredible opportunities in the field of healthcare. It all starts with a passion for helping people and a commitment to excellence. Students who are willing to invest their time, energy, and resources into these courses have the potential to make a significant impact on society and transform healthcare as we know it.
If you're interested in pursuing a medical career but don't want to appear for the National Eligibility cum Entrance Test (NEET), there are a few medical courses you can consider.
These courses provide opportunities in the healthcare field without the requirement of NEET. Here are some options:
1. Bachelor of Physiotherapy (BPT):
BPT is a four-year undergraduate course that focuses on physical therapy and rehabilitation techniques. It deals with the treatment of physical impairments and disabilities through exercises, manual therapy, and other modalities.
2. Bachelor of Pharmacy (B.Pharm):
B.Pharm is a four-year undergraduate degree that focuses on pharmaceutical sciences. It covers subjects such as pharmacology, pharmaceutical chemistry, pharmacognosy, and pharmacy practice. Graduates can work as pharmacists or pursue higher studies in the field.
3. Bachelor of Optometry (B.Optom):
B.Optom is a four-year undergraduate course that focuses on eye care and vision-related issues. It includes the study of optometry, optometric instrumentation, contact lenses, and vision therapy. Optometrists play a crucial role in diagnosing and managing various eye conditions.
4. Bachelor of Medical Laboratory Technology (BMLT):
BMLT is a three-year undergraduate course that trains students in various laboratory techniques used for the diagnosis and monitoring of diseases. It covers subjects like clinical pathology, microbiology, biochemistry, and hematology.
5. Bachelor of Veterinary Science (B.V.Sc.):
B.V.Sc. is a five-year undergraduate course that focuses on veterinary medicine. It involves the study of animal anatomy, physiology, pathology, pharmacology, and surgery. Graduates can work as veterinarians in animal healthcare or pursue higher studies in the field.
6. Bachelor of Naturopathy and Yogic Sciences (BNYS):
BNYS is a five-and-a-half-year undergraduate course that combines the principles of naturopathy and yogic sciences. It focuses on natural healing methods, lifestyle modifications, and holistic well-being.
Benefits of Medical Courses Without Neet
Medical courses without NEET undoubtedly offer countless benefits to students who are eager to pursue a career in the medical field. Firstly, students who are unable to crack the daunting NEET exam can still fulfill their aspirations of becoming a healthcare professional.
These courses enable pupils to gain a deeper understanding of medical concepts and procedures without the added stress of competitive exams. Furthermore, medical courses after 12th without NEET provide an opportunity for students to explore diverse fields within the healthcare industry.
Not only do they gain a comprehensive understanding of healthcare, but they also develop important skills such as problem-solving, critical thinking, and time management. Ultimately, students who pursue medical courses without NEET achieve a sense of fulfillment and are one step closer to realizing their career goals.
Eligibility Requirements for Medical Courses Without Neet
For aspiring medical students, NEET may seem like the gateway to their careers. However, not all hope is lost if you weren't able to clear the exam. There are numerous medical courses available without NEET. 
These courses have their own eligibility requirements that you need to fulfill in order to qualify. It's important to be aware of these requirements and thoroughly research your options. Don't let a setback like not cracking NEET dampen your enthusiasm and motivation.
These alternative medical courses allow you to pursue your passion without having to go through the NEET route. So, if you're still dreaming of becoming a doctor, don't give up just yet! Keep working hard and explore other options that align with your interests and capabilities. Because at the end of the day, as long as you're passionate about your work, success will follow.
List of Universities Offering Medical Courses Without Neet
Have you been dreaming of studying medicine but have been discouraged by the thought of appearing for the NEET exam? Well, don't lose hope! There are universities out there that offer medical courses without NEET.
The good news is that these universities are spread across India, making them accessible to students from various parts of the country. It is possible to pursue a career in medicine without NEET, and the universities on this list have proven that. 
So, if you are passionate about medicine and don't want to give up on your dream, explore these universities and take the first step toward your future. Remember, where there is a will, there is a way!
Career Opportunities After 12th in Medical Courses Without Neet
For those who aspire to pursue a career in the medical field, there are several options available after completing 12th standard without necessarily having to appear for the National Eligibility cum Entrance Test (NEET). Students can opt for courses such as Bachelor of Science in Health Sciences, Bachelor of Science in Nursing, Bachelor of Physiotherapy, Bachelor of Occupational Therapy, and many others.
These courses provide a strong foundation in the medical field and offer practical training which helps the students to gain practical knowledge and hands-on experience. Pursuing a career in the medical field is a noble profession, and with the right planning, dedication, and hard work, students can achieve their dream of becoming healthcare professionals. With a sense of enthusiasm and motivation, students can move ahead toward achieving their goals in the medical field.
All in all, medical courses without Neet prove to be a great field of education for those students wishing to capitalize on their passion for the healthcare system. With the elimination of the need to take one examination, students can focus more on harnessing their skills and abilities to become successful. Whether you're interested in pursuing a degree in dentistry, pharmacy, or biotechnology, there are plenty of courses available that can help each student build a strong and prosperous career path. With the most recent trends in different healthcare sectors such as telemedicine and digital health technology, you can make sure that your skills remain up-to-date with everything currently happening in the medical industry. 
Finally, if you're interested in studying medicine without NEET, remember that there are various universities across India that offer quality education and professional development opportunities to help improve your knowledge and employability. So if you're looking for a successful career after 12th grade, consider exploring medical courses without Neet – you'll be glad you did!
Read More Blogs…