How to Choose the Right Fashion Designing Course After 12th
After completing your 12th grade, stepping into the dynamic world of fashion design can be an exciting and rewarding decision. With a plethora of fashion designing courses available, finding the perfect fit for your aspirations and goals is crucial. Whether you dream of creating stunning couture collections, designing eco-friendly sustainable fashion, or exploring fashion technology, here's a comprehensive guide to help you choose the right fashion design course that aligns with your passion and sets you on the path to success.
1. Self-Reflection: Start by understanding your interests, strengths, and personal style. Consider the aspects of fashion that truly captivate you, be it sketching, garment construction, textile design, or trend forecasting. Identifying your niche will guide you in selecting a course that hones your unique talents.
2. Accreditation and Reputation: Research the fashion designing institutes or colleges offering courses that catch your eye. Look for recognized accreditations and affiliations. Consider the reputation of the institution, faculty expertise, and alumni success stories to gauge the quality of education you can expect.
3. Curriculum and Specializations: Examine the course curriculum in detail. Ensure it covers a diverse range of subjects and techniques relevant to the fashion industry. If you have a specific interest, check if the course offers specializations or electives in that area.
4. Industry Exposure: A practical approach is vital in the world of fashion. Look for courses that provide internships, industry collaborations, or workshops conducted by renowned fashion designers. Exposure to real-world scenarios will sharpen your skills and enhance employability.
5. Infrastructure and Facilities: Visit the campuses or check their online presence to assess the infrastructure and facilities. A well-equipped design studio, computer labs with design software, and a resourceful library can significantly enrich your learning experience.
6. Alumni Support: Connect with alumni if possible, or look for testimonials from previous students. Learning about their experiences and career trajectories after completing the course can give you valuable insights into the institute's support and post-graduation opportunities.
7. Placement Assistance: Job placements or career guidance are crucial factors to consider. Find out how the institute supports its graduates in securing internships or jobs in the industry. A strong alumni network and tie-ups with fashion companies can open doors to exciting opportunities.
8. Budget and Scholarships: While quality education is essential, consider the cost of the course and whether it fits your budget. Additionally, inquire about any available scholarships or financial aid options to ease the financial burden.
9. Location: The location of the institute also plays a role in your decision-making process. Consider whether you prefer studying in a bustling fashion capital or a quieter setting, depending on your personal preferences and career goals.
10. Attend Open Houses or Webinars: If possible, attend open houses or webinars hosted by the institutes to interact with faculty and get a feel for the learning environment. It's an excellent opportunity to get your queries addressed and gain clarity before making a final decision.
Remember, choosing the right fashion designing course after 12th can be transformative in shaping your creative journey. Take the time to research, explore, and envision your future as a fashion designer. Embrace the excitement, unleash your creativity, and embark on this thrilling sartorial adventure!
Top 10 types of Fashion Designing Courses After 12th Commerce
For students with a flair for fashion and creativity, the world of fashion design offers a plethora of exciting opportunities. After completing 12th grade with commerce background, individuals can pursue diverse fashion design courses that cater to their unique interests and aspirations. From traditional design techniques to modern technologies and sustainable practices, here are the top 10 types of fashion designing courses that open doors to a stylish and rewarding career:
1. Fashion Design and Technology: A comprehensive course that blends design principles with cutting-edge technology, equipping students to create innovative and sustainable fashion. Learn pattern making, draping, and CAD software, and gain insights into the fashion industry's technological advancements.
2. Textile Designing: Delve into the art of textile creation with this course. Understand fabric printing, weaving, and dyeing techniques to develop unique and captivating textiles. Ideal for those passionate about infusing artistic elements into fashion.
3. Fashion Merchandising: Explore the business side of fashion. This course focuses on marketing, retail management, and trend analysis to become a fashion buyer, merchandiser, or retail manager.
4. Fashion Styling: Unleash your creativity as a fashion stylist. Learn to curate stunning outfits for photoshoots, events, and celebrities. This course emphasizes visual aesthetics, brand storytelling, and coordination skills.
5. Fashion Communication and Journalism: Develop excellent communication skills and become a fashion journalist, PR specialist, or content creator. Learn fashion writing, digital marketing, and public relations strategies in this course.
6. Fashion Entrepreneurship: Launch your own fashion brand with this course. Gain insights into business planning, brand development, and marketing strategies to thrive as a fashion entrepreneur.
7. Costume Designing: For aspiring costume designers in the entertainment industry, this course explores designing for films, theater, television, and events, combining creativity with historical research.
8. Fashion Illustration: Hone your artistic skills and create captivating fashion illustrations. Learn drawing techniques, body proportions, and how to depict fabric textures to bring your design ideas to life.
9. Accessory Designing: Discover the world of accessories like bags, shoes, and jewelry. This course teaches design, prototyping, and material selection for crafting eye-catching accessories.
10. Sustainable Fashion Design: Embrace eco-consciousness in fashion with this course. Learn about ethical sourcing, upcycling, and sustainable practices to contribute to a greener fashion industry.
Explore Eligibility and Fees for Fashion Designing Courses After 12th!
For aspiring fashion enthusiasts, the world of fashion designing courses after 12th offer an array of exciting opportunities to turn creative dreams into reality. This comprehensive overview delves into the eligibility criteria and fees associated with various fashion design courses. Whether it's Bachelor's programs, Diplomas, or specialized courses in fashion communication, styling, or retail management, this guide empowers students to make informed decisions and embark on a stylish journey toward a fulfilling and rewarding career in the dynamic fashion industry.
Here are the top 10 types of fashion designing courses after 12th with their eligibility criteria and approximate fees:
S.No
Courses
Fees and Eligibility
1
Bachelor of Fashion Design (B.F.Des.)
10+2 in any stream (Science, Commerce, Arts) from a recognized board
Fees 2 lakh – 6 lakh
2
Bachelor of Fashion Technology (B.F.Tech.)
10+2 in Science stream (Physics, Chemistry, Mathematics) from a recognized board
Fees2.5 lakh – 5 lakh
3
Diploma in Fashion Designing
10+2 in any stream from a recognized board
Fees 50K – 2 lakh
4
Fashion Communication
10+2 in any stream from a recognized board
Fees 1.5 lakh – 4 lakh
5
Bachelor of Design (B.Des.) in Fashion Communication
10+2 in any stream (Science, Commerce, Arts) from a recognized board
Fees 2 lakh – 5 lakh
6
Fashion Retail Management
10+2 in any stream from a recognized board
Fees 1 lakh – 3 lakh
7
Diploma in Fashion Retail
10+2 in any stream from a recognized board
Fees 50K – 1.5 lakh
8
Fashion Styling and Image Design
10+2 in any stream from a recognized board
Fees 1.5 lakh – 4 lakh
9
Diploma in Fashion Styling
10+2 in any stream from a recognized board0
Fees 50K – 2 lakh
10
Diploma in Textile Designing
10+2 in any stream from a recognized board
Fees 40K – 1.5 lakh
Please note that the fees mentioned above are approximate and can vary depending on the institute or university offering the course. Additionally, admission to these courses may involve entrance exams, portfolio assessments, or personal interviews, so it is advisable to check the specific requirements of each institution before applying.
The Impact of Fashion Design Courses After 12th
Fashion designing courses after 12th grade have revolutionized the way young talents explore and enter the world of fashion. These courses go beyond teaching design principles; they nurture creativity, innovation, and industry-specific skills that set aspiring designers on the path to success.
One of the significant impacts of these courses is the transformation of passion into a profession. Many students who dreamt of becoming fashion designers but lacked formal training find their aspirations take flight after enrolling in these programs. Through hands-on experiences, they learn to channel their creativity and develop a unique design language that resonates with the fashion industry.
Moreover, fashion designing courses expose students to the latest trends and technological advancements, ensuring they stay ahead in this fast-paced industry. From learning how to incorporate sustainable practices into their designs to embracing digital tools like Computer-Aided Design (CAD) software, graduates are well-equipped to adapt to the ever-changing fashion landscape.
Beyond technical skills, these courses emphasize soft skills such as communication, teamwork, and problem-solving. Fashion designers often collaborate with diverse teams, and effective communication becomes crucial in bringing their visions to life. Graduates emerge not only as talented designers but also as confident and articulate professionals ready to take on leadership roles.
The impact of fashion designing courses extends to the industry as a whole. The influx of skilled graduates brings fresh perspectives and innovation, pushing the boundaries of fashion forward. Sustainability is another significant focus area, as young designers are more conscious of ethical practices and the need for eco-friendly alternatives.
These courses also foster entrepreneurship among students. Armed with a comprehensive understanding of fashion business and marketing, some graduates choose to launch their own fashion labels, disrupting traditional approaches and carving out unique niches in the market.
Short-Term Fashion Design Courses After 12th!
Short-Term Fashion Design Courses After 12th: Enhance your creative flair with specialized short-term programs. Learn essential design skills, styling techniques, and textile innovation to kickstart your fashionable career in no time!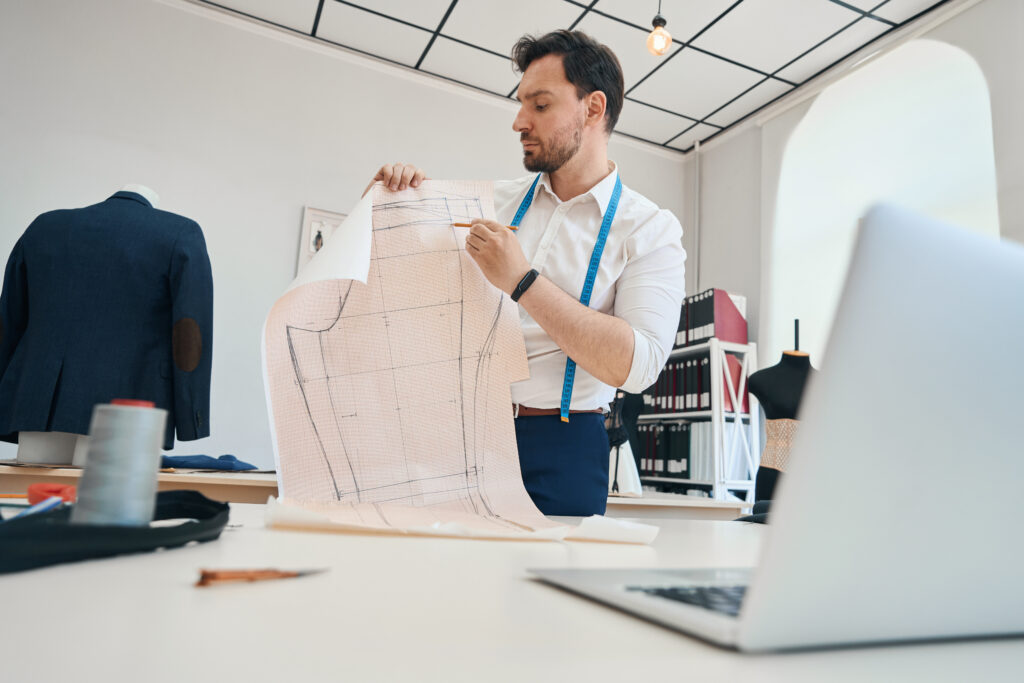 | | | |
| --- | --- | --- |
| # | Courses | Overview |
| 1 | Fashion Illustration Course | Master the art of fashion illustration with this short-term course. Learn to sketch garments, portray fabric textures, and bring your design ideas to life through visual storytelling. |
| 2 | Textile Designing Workshop | Unleash your creativity in this short-term workshop. Dive into fabric printing, dyeing, and weaving techniques, and design unique textiles for fashion and home decor |
| 3 | Fashion Styling Crash Course | Elevate your fashion sense with this short-term crash course. Learn to curate stylish looks, accessorize outfits, and develop skills as a fashion stylist for various occasions |
| 4 | Accessories Design Workshop | Embrace the world of fashion accessories. In this short-term workshop, design captivating bags, shoes, and jewelry, exploring materials, prototyping, and craftsmanship |
| 5 | Sustainable Fashion Seminar | Discover eco-conscious fashion in this short-term seminar. Learn about sustainable practices, ethical sourcing, and upcycling, making a positive impact on the fashion industry |
| 6 | Fashion Retail Basics | Jumpstart your fashion retail career with this short-term course. Acquire essential retail management skills, visual merchandising techniques, and customer service excellence |
| 7 | Fashion Photography Workshop | Capture fashion's essence in this short-term workshop. Master lighting, composition, and posing, and develop a portfolio showcasing your ability to tell fashion stories through photography |
| 8 | Fashion Business Essentials | Lay the foundation of a successful fashion business with this short-term course. Learn about branding, marketing, and financial aspects essential for fashion entrepreneurs |
| 9 | Pattern Making Crash Course | Bring your designs to life with this short-term crash course. Understand pattern making techniques, essential for crafting well-fitted garments and expressing your creative vision. |
| 10 | Fashion Marketing Seminar | Dive into the world of fashion marketing in this short-term seminar. Explore trends, consumer behavior, and digital marketing strategies to promote fashion brands effectively. |
How to Prepare for Fashion Designing Courses After 12th
Preparing for fashion designing courses after 12th requires a blend of creativity, dedication, and practical skills. Here are some steps to help you get ready for a successful journey in the world of fashion:
1. Research and Self-Assessment: Start by researching various fashion design courses and understanding their specializations. Identify your interests and strengths in the field of fashion, such as sketching, fabric selection, or pattern making.
2. Build a Portfolio: Begin creating a portfolio showcasing your artistic skills and design ideas. Include drawings, sketches, and any creative work that reflects your passion for fashion.
3. Stay Updated with Fashion Trends: Follow fashion magazines, blogs, and runway shows to stay abreast of the latest trends and industry developments. This will help you gain insights into current fashion aesthetics and styles.
4. Learn Basic Sewing and Stitching: Familiarize yourself with basic sewing and stitching techniques. Practice stitching simple garments to understand fabric behavior and garment construction.
5. Join Workshops or Short Courses: Enroll in short-term workshops or courses related to fashion designing, illustration, or textile design. These hands-on experiences will enhance your skills and help you understand the industry better.
6. Improve Drawing and Visualization Skills: Work on enhancing your drawing and visualization abilities. Practice sketching figures, outfits, and textures to communicate your design ideas effectively.
7. Learn Design Software: Familiarize yourself with design software like Adobe Illustrator or CorelDRAW, which are commonly used in the fashion industry for creating digital designs and illustrations.
8. Stay Creative and Experiment: Explore different materials, fabrics, and color combinations to experiment and bring uniqueness to your designs. Being creative and open to new ideas is essential in fashion design.
9. Attend Fashion Events and Exhibitions: Attend fashion shows, exhibitions, and industry events to network with professionals, understand trends, and gain exposure to the real fashion world.
10. Brush Up Communication Skills: Effective communication is crucial in the fashion industry. Work on improving your verbal and written communication skills, as it will be necessary during presentations and collaborations.
11. Practice Time Management: Fashion designing courses can be intensive, so practice good time management skills to balance your studies, creative work, and other commitments.
12. Prepare for Entrance Exams (if applicable): Some fashion institutes may conduct entrance exams or interviews. Be aware of their requirements and prepare accordingly.
Remember, fashion design is a field that requires dedication and continuous learning. Embrace your passion, stay committed to your craft, and keep honing your skills to create a successful career in the world of fashion.